National Policy
Finance
The Plan
Our Wellness
True American
Support Us
The Most important thing the federal government can do to contain the cost of health care in the United States is promote robust competition between health care providers and the health plans. Obamacare has stifled competition and stranded most Americans living in a majority of our jurisdictional counties to one (1) ACA carrier. This is a national insurance program that is paid for with the tax dollars paid by All Americans and in rural America and many other parts of our country people are NOT served by this program. They are NOT getting  the health insurance that their federal tax dollars are paying for. This situation is not unlike the time of the American Revolution when All of the American people suffered under the British taxation without representation. This is unfair, unjust and just plain wrong! It is un-American. Almost 250 years ago, We the People started a revolution against the British Governement because of taxation without representation. What We the People need to do for national health insurance is start another revolution in our own U.S. Congress to get them to straighten this mess out once and for All !!
For most Americans, sitting around the kitchen table, Cost Containment is part of their everyday lives. We all recognize we have limited resources and as consumers we seek to spend less, to get more. And, we are not averse to making family sacrifices when something cost too much money. We have a natural incentive to behave in this manner because the less we spend on one thing, the more we have to spend or save for something else.
COMPETITION IN THE MARKETPLACE
Health Care Cost Containment in business economics is simplistically the same as the American kitchen table. Businesses seek to make a profit by carefully watching their expenses. One aspect of our health care that is a little bit different for the American family is the fact someone else is usually paying the bill. Businesses can benefit from that fact. If a doctor or hospital has no incentive to charge less, they will NOT charge less. If their customers, due to a third-party health insurance system, do not have to pay directly for their health services, there is little or no incentive for their providers to charge less. To deal with this problem, the third party payers engage in what we call, "Cost Containment". Insurance carriers, health plans and our government all try to limit the amount of money they are willing to pay. Since the United States operates on an free market economy, in the absence of a monopoly, we believe that business competition is the best way to keep retailers honest and get fair prices.
Medicare Advantage (MA) is the ONLY federally sponsored health plan, besides the Federal Employee Health Plan, that relies upon a free health insurance market with incentives for the health insurance companies to actually compete with one another on price and service. In 1999, CBO Director Dan Crippen observed in the National Bipartisan Commission report on the future of Medicare," We believe that introducing competition into the Medicare program could help reduce costs in both the short and the long run." The average Medicare Advantage beneficiary has access to 24 Medicare plans offered by 7 different firms. MA carriers are paid by the federal governement on what is called a capitation fee. That means the federal governement calculates a set monthly premium that each health plan is going to be paid for each person they enroll, and that is it! Generally the governement pays 100% of the cost of the program and the participants do not pay any premiums out of their own pockets. The MA health plans do whatever they need to do to attract beneficiaries for that year, with that amount of money. They actually assume the health insurance risks and have they have the incentive to reduce the cost of their programs for all of their participants, because that way they make more money. The program operates in a federal regulatory environment that supports competition and encourages innovation and protect the American consumer. MA carriers in a competitive market can make more money by getting more customers and finding other ways to reduce the cost of health care, as they do everything they can to avoid charging their participants any additional premium. In this way, the MA insurance market functions like the group insurance market and the same way all consumer driven companies work hard to earn your business.  
The Affordable Care Act (ACA) is the opposite. ACA regulations have left Millions of Americans stranded with just One health insurance carrier (in some cases, none) to choose in over 50% of the jurisdictional counties in the U.S. (as apposed to just 14% for Medicare Advantage).This effectively gives the ACA carriers monopolistic possession of these markets without any competition. The federal governement pays a premium subsidy toward a Silver plan (benchmark) premium for 85% of the participants based on their income. The higher the Silver plan premiums, the higher the premium subsidy and the more the governement and the participant have to pay to the ACA carrier. There is generally no competitive market, and little opportunity for new customers, so increasing Silver plan premiums will just increase the amount being paid to the ACA carrier. Therefore there is NO appreciable incentive for the ACA carriers to reduce their rates. The only way the ACA carrier can make more money is by raising the rates. The incentive to lower costs is altruistic because they are required to pay out at least 80%-85% of what the premiums collect.
Competition lowers cost - the Medicare Advantage program has it and the ACA does not have it. Medicare Advantage has demonstrated success delivering high-quality health insurance to all the participants. It is the fastest growing government sponsored health insurance program in the United States. The public/private partnership has a proven capability to save their customers more money than it costs them to administer their programs. A PBS Documentary on Medicare Part C demonstrated that some Medicare Advantage carriers could almost save more money through favorable provider contracts than they needed to charge the governement for administration, potentially delivering the health insurance program Free of charge. The challenge for the government is to pay Medicare Advantage insurance carriers the lowest and most reasonable capitation fees possible, but also enough money to be enable them to make a profit, and to motivate the carriers to lower costs and factor their profit back into the cost that they charge for administration. This is what the BlueCross BlueShield system did forty years ago, when commercial carriers paid full provider charges and they were not taxed.
You should watch the Wharton School Video below and learn how the government purposely paid Medicare Advantage carriers more money to improve their networks so that they could be of service more people and it worked! Seema Verma has just announced a rate increase of 2.53% for Medicare Advantage plans is 2020. This increase is tied to the health plans flexibility to offer more supplemental benefits to patients with chronic illness. This is a concrete example of how MA carriers actually do increase benefits when they are paid more money, which is what the Wharton Study was trying to uncover. Further, during the comment period where carriers could make suggestions to HHS, most of them railed against the Department's requirement that they increase the amount of encounter data they submit to calculate patient risk scores. They didn't want to do it. But, HHS knew it would improve their performance and their ability to serve their beneficiaries and it insisted that they increase the data points. In April, bolstering the Department's decision, the Medicare Payment Advisory Commission urged Congress to pass legislation that would allow the regulators to withhold a portion of a plans payments if the encounter data was inaccurate or incomplete. You can think anything you want about Medicare Advantage plans, but if you think for one minute that they are not carefully regulated and that our Medicare beneficiaries are not being protected by the Department of Health and Human Services, you are just plain wrong! And, remember, this is the most popular health plan in America today. If the ACA had what it takes, we would be at 100% insured penetration right now and we reason we are stuck in the MUD, is because the ACA does not have what it takes to be successful. And, this is not the fault of the Republicans nor the Administration. It is the fault of the program. Wake up America! This DOG will NOT hunt!
In 2016, ACA carriers, responsible for over 1.4 Million Americans in 32 States lost their choice of carrier due to withdrawals from these markets, while the number of Medicare Advantage Plan options in the U.S. grew from 2,034 In 2016 to 2,734 inn 2019.  Medicare Advantage (MA)enrollment is highly concentrated among a handful of firms, all Medicare Advantage carriers have the incentive to lower their costs in order to successfully compete with one another. In 2018, in seventeen (17) states, one company accounts for more than half of all Medicare Advantage enrollment. In addition, 47 states have more than half their MA enrollment placed with just two companies, and 31 states have two-thirds of their enrollment in two companies. The largest market leaders of the 2016 MA markets include the trusted names of UnitedHealth (20.5%), Humana (19.5%), Kaiser Foundation (10.3%), Aetna, BCBS Anthem, Cigna, Highmark, Centene, WellCare, and BCBS of Michigan.
Obamacare has never had this kind of healthy American competition that is shown in the graphs below: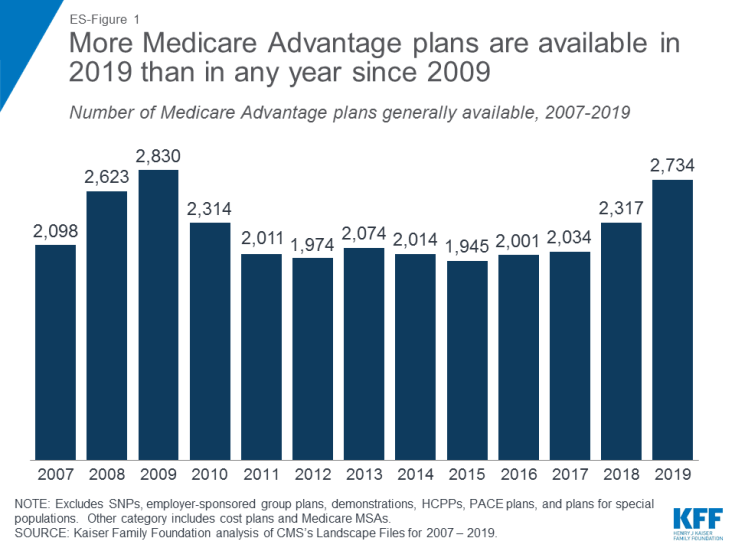 Number of Plans Available to Beneficiaries. In 2019, the average Medicare beneficiary will have access to 24 Medicare Advantage plans available for individual enrollment, the highest number of plans per beneficiary since 2011 (Figure 2). Among the 24 Medicare Advantage plans available to the average Medicare beneficiary, twenty (20) of the plans will include prescription drug coverage (MA-PDs); 90% of all Medicare Advantage plans offered will include prescription drug coverage in 2019.
Let's Learn How It Works
The Wharton Business School studied the effect that the federal government's increase in payments to the Medicare Advantage (MA)plans, to determine if the Obamacare cuts to MA plans would have a negative effect on MA "quality". What the Study found was that the more money Congress poured into the Medicare Advantage Plans, the more competition in the marketplace we got. Contrast that with Obamacare. The more money Congress throws at that program the LESS competition, with a few exceptions, we get.  So, what's up with that? You would think a self-respecting health insurance company that had the opportunity to make more money might want to jump at the opportunity to get into Obamacare. This is what Obama wanted to have happened, but it didn't work like that. It didn't work like that for a lot of reasons, but probably the most important reason is that the program is fatally flawed. And, it was fatally flawed from the very beginning. We don't get anyone in Congress that is willing to own up to this failure. Each political party points fingers and blames the other party for the ACA failure, but nobody bothers to fix the problems, much less own up to their mistakes.
You have to ask yourself, what is the BIG DEAL? So, we have had failed federal programs before, right? It is not like we haven't had failed federal programs? What about the Department of Veterans Affairs? What about the Community Reinvestment Act? What about the Federal Family Education Loan Program? What about Amtrak? What about the Drug Enforcement Agency and the Opioid Crisis? Usually, when the federal government fails at something, they try to fix it without stopping it. And, that is why Medicare-Advantage-For-All is so attractive. We can fix the problems using MA without stopping Obamacare.
The federal government was planning to cut payments to MA plans in order to support the Affordable Care Act. This Wharton study supports the efficacy of the Medicare Advantage program as a solution to our need of the American people for a national health plan that delivers the highest quality of medical care for the lowest possible cost. They found the major impact of increased federal funding was an increase in the competition among the health plans, but not necessarily "better benefits" for MA beneficiaries. When CMS authorized the increased payments to MA Plans, one of the goals was to cover more seniors, in more areas with more plans, and that is exactly what happened. This is what happens when you have well-designed health PROGRAM THAT  WORKS! This Wharton study was completed in 2014 and before many of the newer MA studies that demonstrate clearly improved quality of medical care, especially for high-risk seniors.
We hope this video gives you a better understanding of what will happen if a Medicare Advantage Plan is extended to All Americans. We still have a massive problem with 29 Million uninsured Americans. Our website shows you how a properly designed and funded Medicare Advantage Plan For All would work and we need your help. At Medicare-Advantage-For-All. Com/ we are dedicated to reducing the cost of health care for everybody in the United States. We have some very definitive ideas for how we can accomplish this goal using MA programs. Please spend some time visiting this website, especially the Wellness and Well Being Page and email us if you have any questions and would like to help us out.
HOW DO WE SAVE MONEY TREATING CHRONIC ILLNESS
Predictive, Preventive, Personal Medicine (PPPM) promises effective prevention and treatment of most chronic illnesses. The CDC claims that 90% of our NHC-GDP is for the treatment of chronic illness. Currently one out of every three Americans could be diagnosed as pre-diabetic. For those of you that are not familiar with diabetes; Type 2 diabetes is a very serious condition that affected 26.7 Million Americans in 2016. Type 2 diabetes is often the natural result of uninformed lifestyle choices. According to Dr. George Guthrie, MD, MPH, CDE, CNS, and pundit on this issue:
"the right treatment for dealing with the underlying physiologic cause of Type 2 diabetes is to decrease caloric intake while increasing the calories expended. This would mean adding exercise and changing dietary habits. Aggressive but careful application of exercise combined with a good diet can change the physiology of Type 2 diabetes and lead to a reversal of insulin resistance in a relatively short period of time."
On their web site (last visited January, 18 2019) the CDC has developed a Workplace Health Promotion program with a Worksite ScoreCard to help employers reduce the incidence of Chronic disease among their employees. Their explanation of why the Scorecard is so important, backs-up everything we have been writing about chronic illness:
The United States is facing an unparalleled health epidemic, driven largely by chronic diseases that are threatening American businesses' competitiveness because of lost productivity and unsustainable health care costs. The medical care costs of people with chronic diseases accounted for more than 90% of the nation's $3.3 trillion in medical care costs in 2016. For example,
•Cardiovascular disease costs the United States more than $329 billion each year, more than any other health condition. This includes $199 billion in direct medical costs and $130 billion in indirect costs including productivity loss from premature mortality.
•Medical costs of obesity were estimated from $147 billion to $210 billion per year.
•In 2017, the economic costs related to diabetes were estimated at $327 billion. This figure includes $237 billion in direct medical expenses and $90 billion in indirect costs from disability, presenteeism, work loss, and premature mortality.
•The total economic cost of smoking is more than $300 billion a year. This figure includes nearly $170 billion a year in direct medical costs and more than $156 billion a year in lost productivity.
Although chronic diseases are among the most common and costly of all health problems, adopting healthy lifestyles can help prevent them. A wellness program that seeks to keep employees healthy is a key long-term strategy that employers can use to manage their workforce. To curb rising health care costs, many employers are turning to workplace health programs to make changes in the worksite environment, help employees adopt healthier lifestyles and, in the process, lower employees' risk of developing costly chronic diseases.
The approach that has proven most effective is to implement an evidence-based, comprehensive health promotion program that includes individual risk reduction programs that are coupled with environmental supports for healthy behaviors and coordinated and integrated with other wellness activities. However, only 11.8% of US employers offer a comprehensive worksite health promotion program, according to a 2017 national survey.
Several studies have concluded that well-designed worksite health promotion programs can improve the health of employees and save money for employers. For example,
•In 2005, the results of an analysis of 56 financial impact studies conducted over the past 2 decades showed that medical or absenteeism expenditures were 25%–30% lower for employees who participated in worksite health promotion programs than for those who did not participate.
•In 2010, a literature review that focused on cost savings garnered by worksite wellness programs found that the return on investment (ROI) for medical costs was $3.27 for every dollar spent. The return on investment (ROI) for absenteeism was $2.73 for every dollar spent.
Studies have also found that worksite health promotion programs can take 2 to 5 years to see positive ROIs.
CDC encourages employers to provide their employees with preventive services, training and tools, and an environment that supports healthy behaviors.The ScoreCard includes questions on many of the key evidence-based and best practice strategies and interventions that are part of a comprehensive worksite health approach to addressing the leading health conditions that drive health care and productivity costs.
PREDICITVE, PREVENTIVE, PERSONAL MEDICINE (PPPM)
There is a general consensus among medical professionals that 80% of the risk of chronic disease can be either reduced or completely eliminated with the proper medical treatment, commonly referred to in Europe as Predictive, Preventative, Personal Medicine or PPPM and the patients observance of healthy lifestyle habits. Therefore, we can assume that approximately $2.628 Trillion Dollars can be reduced or eliminated. We believe our Medicare Advantage For All plan should save at least  $1.3 Trillion Dollars and reduce the NHC-GDP by at least Sixty-eight percent (64%) to $2.34 Trillion Dollars, or 12% of Total GDP. This will put a huge dent in the incidence of chronic illness, reducing by at least half.
The logic goes like this: The CDC estimates that 90% of the nations $3.65 Trillion Dollar NHC-GDP was for chronic and mental health conditions. It is generally accepted that 20% of the population generates 80% of the health care expenses. Currently, we have about 195 Million Americans suffering from at least one chronic illness. We know that higher rates of chronic illness is associated with lower incomes. KFF also confirmed that the main reason most uninsured Americans don't buy health insurance is because they can't afford it. Therefore, it is logical to conclude that most of the chronic illness is suffered by the target population for our Medicare-Advantage-For-All. Com program.
EMPLOYER HEALTH AND WELLNESS PROGRAMS
This MAA target population includes the 30 Million uninsured Americans, some of whom are working, plus the 8.4 Million plus Obamacare subscribers, 75% of which receive federal subsidies in order to make the ACA programs affordable. If our Medicare-Advantage-For-All. Com program is only able to impact just half of the people that suffered from chronic illness in 2018, we will potentially save $1.314 Trillion Dollars and lower our NHC-GDP to less than 12% (64% cost reduction).
What about the other 50% of the people. A program like the one we are proposing will have a massive RIPPLE effect. As you know, the vast majority of our people are covered by group insurance programs that are sponsored by private employers. Our private employers, especially the larger ones, have a lot more experience with successful health and wellness programs than any other entity on the planet. In addition, we have the 22.6 Million people already covered by Medicare Advantage plans. If we are successful lowering the health care cost with an affordable comprehensive insurance plan that includes an integral health and wellness component; the employers and MA health plans will quickly incorporate these features in all of their programs. Eventually, everyone, except perhaps fee-for-service Medicare and collective bargaining agreements, will have state of the art health and wellness programs that will lower everybody's rates and improve the general health of the vast majority of Americans. Remember, if we do this right, the health plans will be rewarded like they are under the STAR program, with more money based on their ability to improve outcomes, improve health status and reduce the cost. The effect of this reduction will lower the cost of health care and health insurance for individuals and businesses and will increase our health condition, our productivity and our competitiveness as a nation. This is how we will pay for Medicare Advantage For All and how we will ALL.
INCENTIVES AND THE MARKET
Charlie Munger and Warren Buffet run Berkshire Hathaway, one of the most successful business conglomerates in the nation. Charlie Munger has taken a deep dive into the health care business, starting up a company called Haven to analyze the problem with run away health care costs and devise better ways of interacting with employees to lower the cost of health care for employers.  Charlie Munger puts the situation succinctly, noting that when the government pays doctors for delivering any services that they want, to patients that are covered by health insurance, that doesn't cost them any money; then of course, the system is going to create a lot of unnecessary tests, procedures, and interventions. "If the incentives are wrong, the behavior will be wrong." Charlie Munger is simply right.
The New Paradigm in health care is Value Reimbursement is to re-structure the health care reimbursement system to treat the patient as a whole person and  pay for cures and prevention. Value vs. volume and coordinating and integrating care are common refrains in health care delivery system reform from both Democrats and Republicans. In a 2016 statement to the House Ways and Means Committee, Sylvia Burwell, the U.S. Secretary of Health and Human Services (HHS) under President Obama, noted, "We are focused on moving towards a health care system that delivers better quality of care, spend dollars in a smarter way, and keeps people healthy." Now over Two years later, in remarks to the Federation of American Hospitals, current HHS Secretary Alex Azar declared, "There is no turning back to an unsustainable system that pays for procedures rather than value." "In fact, the only option is to charge forward — for HHS to take bolder action, and for providers and payers to join with us." Providers and payers are taking bolder steps toward Value Based reimbursement schemes, especially Medicare Advantage payers. The CMS Innovation Center is promoting a value-based insurance design (VBID) model for MA providers, which allows plans to reduce cost-sharing or offer supplemental benefits for people with chronic conditions to promote high-value services. Medicare Advantage plans also have new authority to target supplemental benefits for people with certain chronic conditions beginning in 2019. Both of these expanded authorities allow Medicare Advantage plans to offer benefits to people with chronic conditions that have traditionally been offered only through C-SNPs. Although we are taking the first steps toward Value Reimbursement, there is a grave need to change the focus of physician practice patterns and training. But, at least it is getting easier to see the desired destination, because we are beginning to walk in the right direction.
You can read more about High Value Health Care in the article below on the movement. It is one thing to pay for value and it is another thing to know what value the value we should want to pay for. We are learning to pay for better for cures. We still have to learn how to pay for prevention.
GROUP PRACTICE
Medicare Advantage plans are essentially managed care programs. They can be offered by provider group practices and insurance companies. In 2017, Christy Chapin Ford, in a New York Times Op-Ed piece on health care noted that pre-paid physician groups were successful in holding down health care costs, much to the consternation of many independent practitioners and hospitals. She wrote, "Physicians established a particularly elegant Model: the pre-paid doctor group." "Unlike Today's physician practices, these groups usually staffed a variety of specialists, including general practitioners, surgeons, and obstetricians. Patients received integrated care in one location, with group physicians from across specialties meeting to review treatment options for chronically ill or hard-to-treat patients." Facility-based HMOs, PPOs, PFFS and other group practice models can also work in this manner. These systems tend to hold-down costs. Since the year 2000, there has been a 70% increase in the number of physicians being employed by an institution or group practice. In some of them, physicians typically earn a base salary plus a percentage of the group's quarterly profits (which they like), so they lack the incentive to either ration care, which would lose them paying patients or provide unnecessary care, which would lower their bonuses. Rationed care is a constant complaint in the British Health Service and in our VA system. Last year alone, not one but two (2) children died in England because the British Health Service refused to allow the children to leave the country to receive life-saving treatments.
Group Practice organizations are not exactly the darlings of the AMA, or the AHA or possibly our Congress, nor are they necessarily very popular within the Ivy League halls of Medicine. However, it was Health Maintenance Organizations and Independent Practice Associations that successfully reduced national medical inflation rates to single digits for several years when they were first introduced in the '70s. And, they staved off the political pressure for national health reform for three (3) decades. Multidisciplinary medical practices such the recently merged Beth Israel Lahey Clinic in Massachusetts, Loma Linda Health in California and the Mayo Clinic in New York have each achieved worldwide recognition for their medical excellence, while dramatically lowering their cost of care for their patients. The credibility of these Clinics and their medical excellence is due, in no small part to the commitment of their physicians. These institutions of Medicine which enjoy a history of illustrious medical achievements and reputations for extraordinary medical excellence.
ABJ, the new venture formed by Amazon, Berkshire Hathaway, and J.P. Morgan is working diligently to build a better platform for their group health insurance programs, working with health care providers and managed care plans to modify their patterns of practice and their employees to modify their behavior. Their CEO, Atul Gawande, MD was mentored by Charlie Munger of Berkshire Hathaway, who truly understands the value of having the correct incentives in health care.  Dr. Gawande was an early proponent of Accountable Care Organizations.
ACCOUNTABLE CARE ORGANIZATIONS
Accountable Care Organizations (ACO) are an attempt to create interdisciplinary group practices, without walls (any firm organizational structures). To foster the development of these organization, CMS started the Medicare Shared Savings Program (MSSP) in 2012. There are now 581 ACO's caring for over 10.5 Million Medicare beneficiaries and the program did save Medicare $900 Million + Dollars over the last three years. But, these savings fell far short of the CMS expectations. Eighty-two percent (82%) of ACO's are still in Track 1 of the program, where they get paid extra money for generating the savings but they take no financial risk.  ACO's continue to be loath to assume the financial risk for their health care. They eventually are expected to gravitate to Track 3 of the MSSP which is the most advanced track with the greatest downside risk. In December 2018, CMS released the "Pathways to Success" program which requires ACO's to take on downside risk more quickly. They have until the latter part of February 2019 to get on board and they are struggling with the decisions.
This is a perfect example of an all too typical scenario in the American health care system and in our economy in general. Our industries respond positively to government programs that provide additional income. If we want certain behavior; all we have to do to create it is to create the right incentives. The ACO program is not meeting the potential savings that the government expected but at least it generated some savings, proving that when providers want to do something (and they can earn more money doing it) they will get the job done. The unfortunate aspect of these ACO's seems to be the somewhat transitory character of their organizations. Does it feel like they almost don't believe in what they are doing? They are not true group practices or clinics per se, but they are trying. The question is; are they just doing it for the money (which is OK) but it may not last? CMS is trying to help them get over their adversity to financial risk by facilitating their interest in putting their own financial skin in the game. This case is a good example of HHS's Alex Azar and Seema Verma leadership. They are on the top of their game, driving our industries in the direction in which they need to go, for the benefit of the American people and we salute them.
Seeman Verma was also instrumental in developing the Star Rating System, which is an incentive system for measuring hospital performance under the traditional Medicare program. It has also caused some general hospitals to change their entire model for admission practices and patient care. The Naples Community Hospital (NCH), which is the largest hospital system in the SW Florida community learned that they get earlier discharges, improved patient satisfaction, and lower re-admission rates by allowing their staff doctors to admit and manage patient care. In order to improve their Star Ratings, they now restrict private practice physicians from admitting patients without the assistance of a hospitalist. Other recent cost-effective changes include a re-definition of inpatient admissions from mid-night to mid-night and reimbursement parity between hospital and non-hospital ambulatory care centers and doctor's offices which has accelerated the increase in in the number of procedures in the lower cost outpatient treatments.
All of these efforts are baby steps toward a focus on the New Paradigm in medicine that is going to improve the quality of health care and lower the cost of care for everyone, in a Truly American way. CMS's Centers for innovation must continue to produce value/outcome based reimbursement methodologies and encourage more global and capitation reimbursement schemes in contracting with providers and intermediaries in order to continue the progress. Eventually, Predictive, Preventive and Personalized Medicine (PPPM) must be paid by capitulation for the physician care of all the patients they accept.
SINGLE PAYER
For the purposes of our advocacy for Medicare Advantage, it is important to remember why the federal government created Medicare Part C. It was to save money! Group Practices, HMOs and PPOs are now responsible for taking care of Thirty-five (35%) percent of all the Medicare-eligible seniors enrolled. Their systems are not for everybody, but it sure beats the pants off not having any health insurance at all. Other participating MA providers include Independent Practice Associations and carriers like BlueCross BlueShield, Humana and United Healthcare. These businesses have and continue to build, their own physician networks, created especially to take care of Medicare Part C- enrollees. Insurance companies are not always the Bad guys. They are an important and integral part of the public/private partnership and one reason to have hope that we can really get the cost of health care under control without scraping the free enterprise system and letting a single payer government run health care system take over the industry entirely.
Based on a Gallup poll in 2017, the support for a government-run health care system splits onto political party lines. Sixty-seven (67%) percent of Democrats prefer the government-run option, while only twenty-two ( (22%) percent of Republicans, and for Republicans, this is the Highest level of support recorded in seven years of asking the question. Where we stand on the issue is depends on which party is in the majority. At Medicare-Advantage-For-All. Com/, We are in favor of a compromise. In a July 2019 the Heritage Foundation reported a recent poll that asked Americans if they wanted  to eliminate private health insurance coverage as an option and 70% of the respondents said NO.
We are the most successful advanced industrialized nation in this World. Our health care providers deliver the highest quality health care, which is the envy of all nations and is the preferred provider of the most privileged people on Earth. I hope we are not going to ruin our health care system because we can't figure out how to make these great services available to our own people!
Aaron Copland and Leonard Bernstein were great American composer's, who wrote beautiful American symphonies that contribute to our American story. Dr.'s Frank Lahey and Sara Jordan of the Lahey Clinic and Dr.'s William(s) and Charles Mayo of the Mayo Clinic and many others renowned physicians developed symphonic medical care systems that deliver the highest quality health care that the world has ever seen. We should build on this expertise by creating a health insurance system that plays like a great American symphony. Medicare Part C has been successful for Twenty (20) years making a great American symphonic music, relying on our strong and independent public/private partnership that will make health care available, affordable and accessible for every American citizen.
We have made great strides toward this goal, but our current efforts are detracting from this progress. We have the lowest rate of uninsured citizens in our countries history. Yet, the ACA didn't go far enough. And, so far none of the Republican-led reform proposals have gone far enough either. The CBO confirmed that None of the reform proposals would have insured more people.
We must convince our Congress to put aside their partisan politics and take care of the health care and put the well-being of the American People first. If we are going to continue to be a successful beacon of freedom and democracy around the World, we need to be the nation that finds a free market solution to health care for all. We do not have to accept the defeat of socialized medicine.
Warren Buffet was asked about his confidence in the American system of doing things and he said the following," You need not be an economist to understand how well our system has worked. Just look around you. See the 75 Million owner-occupied homes, the bountiful farmland, the 260 Million vehicles, the hyper-productive factories, the great medical centers, the talent-filled universities, you name it - they all represent a net gain for Americans from the barren lands, primitive structures and meager output of 1776." We have come a long way and we have a long and prosperous future ahead of us.
VETERANS ADMINISTRATION
The closest thing we have single-payer health care in the United States is the Veterans Administration (VA). The VA currently takes care of Nine (9) Million veterans, a population similar in size to the ACA. Because of the VA's failures, there is a very public battle over privatization. The veterans that We know, have nothing but praise the VA, even when they have suffered severe injury as a direct result of their treatments. In one case, a Supporter suffered the permanent loss of lung function as a result of an unintended electric shock during heart surgery in a VA hospital. Fortunately, "VA Choice" congressional reforms passed. Now VA administrators that fail to deliver an adequate level of health care to our Veterans can be fired. VA standards of care for veterans are now required and failure to deliver them triggers a VA Choice eligibility option, which allows our Veterans to seek care from a private medical practitioner outside of the system.
Even though every major healthcare leader on President Obama's Commission on (VA) Care endorsed a wider use of private facilities within a clinically integrated system of VA coordination, the Democrats opposed the VA Choice Bill on the grounds that the community physicians were not prepared or perhaps even incapable of providing our Veterans with adequate health care. The truth of their opposition was the fact that they didn't like the idea of bringing the VA closer to privatization. And, even though all of the medical professionals and even the non-professionals that worked closely with the VA on this issue were in favor of allowing our Veterans to go out of the system, the Democrats fought the VA Choice Bill right to the bitter end.
It makes you wonder if we did have a Single-Payer system, would Democrats resist improving the services or give similar support to a  single-payer system, even if it was not performing well? Although, if we have single-payer, I guess there will be almost no other place else to go?
COMMUNITY HEALTH CENTER PRIMARY CARE INSURANCE PROGRAM
The most pressing question we face as a nation, when it comes to improving the health of the American people, is how to reach the 20% of the population, who will not, and to date have not, chosen to participate in a health insurance program. Studies have shown that the biggest impediment to such participation is the insurance cost. And, there is evidence that as many as half of this group will not participate in a health insurance program regardless of the qualifications for a premium subsidy, even in some cases, if the program free of charge.
It may be possible to improve the affordability and access to health care services, especially for those Americans most vulnerable due to their economic status, if we create a special health insurance program using the federally qualified community health center network. These health centers were created and are supported by the federal government to provide much needed primary health care to people regardless of their ability to pay for the services. A health insurance plan designed for low-wage workers may increase the ability for the health centers to provide health services to a greater number of people. Many of these workers maybe already receiving health care from the community health centers. However, often they make too much money to qualify for ACA federal premium subsidies. An insurance plan targeted to this population may increase the number of people using the clinics and possibly increase federal subsidies for the community health center system and improve the prospects for more regular federal funding in the future.
This proposed health plan would rely on the community health centers for all the primary care and provide the tertiary care to the insured population through a third-party insurance mechanism. The federal government, here to for, has been unable to offer a program that attracts most of the low-wage workers, who make up a significant proportion of the uninsured population. These special programs will require the participants to receive all their primary care from the community health centers network (CHC) in their area. The CHC will become the sole primary care home, in place of the ER, for Forty-five percent (45%) of the uninsured Americans, who find the ACA programs too expensive. Many of these workers are never going to be able to afford traditional health insurance and if the federal governement is not going to buy it for them, this program will definitely make available the primary health care they need in a more affordable manner.
The community health center network has over 10,000 locations throughout the Country, mostly serving under privileged urban areas and rural communities where their services are most needed. The health centers employ over 51,000 health care workers serving over 1,400 communities and are substantially supported by the federal government. The health centers do accept all forms of health insurance including Medicare and Medicaid, but if a person has no health insurance and cannot afford to pay for health services, the clinic health services are free of charge. Congress re-authorized CHC funding for the system two years ago. We would expect special expertise, support, and direction for a CHC Health Plan will be provided by HHS.
The Community Health Center network is a True American Jewel in our health care system, a wonderful thing for which every American citizen can be proud. True Americans believe in the value of our healthcare system and our need to care for one another. We should all be very proud to deliver essential health care services to "We the People" in the United States of America through this network. Please don't miss the upcoming Sixth Edition (6th)- The True American for more information.
FEDERAL REGULATIONS
Government regulations are the biggest cause of the high cost of the ACA. Carriers are required to do certain things that they would not otherwise do if they were trying to design health insurance programs that were affordable for the American people. In the private market, health insurance plans that do not meet the elevated coverage levels required by the Affordable Care Act are grandfathered until October 1, 2019. Because these plans are not compliant with ACA regulations, they are a lot cheaper and consumers are generally advised to keep them going unless they qualify for government subsidies. Consequently, no one should be too surprised that in the absence of government subsidies, the ACA programs are NOT generally affordable. The Congressional leaders are frustrated with the high cost of out-of-pocket skyrocketing premiums, and many other "serious problems" that they mistakenly believe are part and parcel with a health care system dependent on private health insurance plans. Federal Regulations are largely to blame. Federal requirements that contribute to higher premiums include:
The government telling insurance companies how to rate their products, requiring among other things, community rating, even though we know that certain segments of the population end up paying more than their fair share of the cost.
Artificial rating to prevent the true pricing of health care risks that would otherwise lower the cost of health insurance. For instance, ACA requires insurance companies to make it cheaper for young people, so they can presumably attract more of them into the program. These premium brakes raise the rates for the older people, smokers and high-risk individuals. The Fed's require CSR payments for certain Silver products and because everyone in the Silver plans, regardless of income, pay the same rates, some poorer people get more benefits and the not so poor people pay more for it.
Minimum Health benefits regardless of a need for coverage so that everyone must pay for all the coverage levels regardless of their need for the coverage or that level of benefits, which artificially raises the cost of insurance for everyone. For instance mental health benefits, ambulatory outpatient services, pediatric oral and vision care, maternity services and financial caps on inpatient care and lifetime maximums.
The need to eliminate CSR deductibles and coinsurance for people at or just above the poverty level, despite the need for responsible incentives for the proper use of the benefits, like deductible for emergency rooms, etc. because people of poverty should be less responsible and pay less for their health care than the other people who are not so poor. CMS is currently soliciting recommendations on ways to eliminate this unfair "silver premium loading".
Marketplace enrollment in a health plan through unlicensed disinterested non-profit organizations paid for as an add on to premiums and not through the insurance companies that need the information to pay claims. The ACA distrusts insurance companies and requires the consumer to listen to these disinterested unlicensed third parties, rather than listening to the companies that are in the business of administering these benefits, paying the claims and legally required to use licensed and trained agents to sell their products and to protect the public. More than half of the state Marketplaces have gone out of business at the cost of Millions of Dollars. On January 17, 2019 CMS issued a  Notice of Benefits and Payment Parameters proposing cuts to the ACA exchange fees, which will be required until these exchanges are eliminated.
Using Maximum Loss Ratios to Regulate the amount of money an insurance carrier can pay out for consumers, even though the regulation forces the insurance company to raise their rates and increase reimbursements to providers to improve their bottom line performance and increase their profitability. This practice encourages prospective underwriting rather than capitation reimbursement which is a tremendous cost driver.
Allow anyone to sign up for health insurance at any time and be placed in the same programs in the same risk pools and at the same rates as those people who have maintained health insurance for many years and paid into the programs under which they have coverage, increasing the cost for everybody due to adverse selection. Why carry health insurance when you can sign up for it when you sick and drop it when your not?
Force the non-renewal (cancellation) of non-qualified health insurance plans and the limitation of temporary plans providing affordable coverage for many Americans, because legislators feared people would not join the ACA or drop out of it, even when these limitations forced many Americans to join the ranks of the uninsured. Everyone with the older grandfathered health plans has lower premiums.
These are just a few of our HOT BUTTON examples of what the government did wrong when they passed the ACA. These ACA regulations unnecessarily raise the cost of health insurance for everybody. in their continuing effort to lower the ACA premiums in 2020, CMS recently issued a 331 Page notice intending to further the administration's goals for reducing the regulatory burden on health insurers and lower premiums for consumers.
Collectively, all of these regulations make health insurance less affordable for the American people. It is no accident that the ACA enrollment is declining, with only 8.5 Million people left on the program and most of the urban dwellers, 85% of which have their premiums largely paid for by the taxpayers. Since 2016 the ACA enrollment has gone from 12.6 to 8.5 Million. MA enrollment has gone from 17.6 to 20.0+ Million. What's in your wallet?
To it's credit, Obamacare did attract participants that were previously uninsured. Getting them covered has contributed to the reduction in uncompensated care and the financial health of the hospital system. And, the ACA also gave coverage to 12.6 Million newly eligible people with the expansion of the Medicaid program. If it was 8.5 Million uninsured and 29 Million covered by the ACA, then we could consider the Law a success. But, unfortunately, it is the other way around. Big government is NOT the answer!
PRE-EXISTING CONDITIONS
In the real world, the exclusion of pre-existing conditions was a medical underwriting requirement used primarily to secure the financial integrity of the insurance pool protecting the health insurance participants that do not have such conditions. This is often pejoratively characterized as a sinister tool used for insurance companies to make increase their profits. The problem is if we allow everyone to avoid health insurance until they get a serious illness, many people would never get health insurance until they need it. Accepting them into the same risk pools of the ACA plans is like allowing them to burn their house down and then requiring a government-sponsored property casualty insurance company to enroll them and pay for the loss. It is NOT fair to those responsible people, who are already in the plan.
Never the less, All citizens of the United States that want health insurance, should be able to get it. The ACA carriers are increasing rates by an average of 20% simply to cover this Pre-X regulation, and it is probably not enough. We don't think health plans should be required to prospectively insure pre-existing conditions for all health insurance plans. Pre-existing conditions should be covered by special risk pools under state Medicaid Plans, which many states already have, regardless of their income. These plans are generally "pay as you go - cost plus" plans and 50% of the cost is currently shared by the federal government. If necessary, the federal government could increase the cost sharing to 90%, as they do for the Medicaid expansion. These pre-existing conditions are sometimes the costliest and health care necessary to treat them cannot be properly underwritten with traditional insurance at reasonable rates. Therefore, instead of futile trying to spread the risk, as the ACA does, the risk should be shared in special risk pools and funded by the tax burden that pays for Medicaid. please see our views on Pre-X in the "Best Bi-Partisan Solution...". 
RESEARCH AND DEVELOPMENT
If you check into the Roll Call Forum link below you will get to see first hand the best of health care delivery in the United States. The discussions tell us that
1.) For the first time in decades, we are seeing some real progress (a New Paradigm) in the finance of our health care. Medicare and Medicaid demonstrations and Value-Based payment models are offering the promise of significant financial returns for high-need, high-cost patients.
2.) This is the most exciting time with the greatest promise of change in the delivery and cost of medical care that we have ever known.
The successful work of CMS and Academic Medical Centers and Medicare Advantage health plans like Humana have demonstrated many opportunities to create high-performance health systems, establish operational evidence for how to transform delivery systems, and to train the next generation of providers. Cost effective demonstration programs have shown progress in the treatment of high-need, high-cost individuals and portend a more adequate comprehensive approach to the treatment of patients suffering from chronic illness.
In the United States, we have grown accustomed to excellence in health care to the point where we run the risk of taking it for granted. The human Geno sequencing and the merging of biology and technology is the gateway to new drugs and new treatments because we are now able to see why a treatment, like immunology in cancer treatments, are not working. Knowing why a drug does not work lowers cost by eliminating these unnecessary treatments. We are also developing new treatments that hold the key to lower cost and improve the quality of life. Tremendous achievements in the treatment of HIV have resulted in reducing the cost of drugs and the ability for patients to live a normal lifespan. The ability to treat Hepatitis C has improved such that, everybody in the U.S. is now screened for it in all standard blood panels and the cost of the drugs to treat the illness has been reduced by seventy-five percent (75%). Recent breakthroughs have also been achieved in the treatment of Alzheimer's, hemophilia, leukemia, neuropathy, certain blood disorders, pancreatic cancer, and lymphoma just to mention a few. In the U.S. we are the innovators and we are leading the world in research and quality of care.
In the past decade, the debate about cost containment was focused on medical technology and that is shifting now to a focus on biotechnology. The challenge we all face is how to keep the innovations coming from the hospital, Academic Centers of Medicine and our research laboratories. There is obviously the need for more investment and better finance and the return is the promise of lower treatment costs and a higher quality of life.
HEALTH RISK MANAGEMENT
In 2011, the highly respected Milbank Memorial Fund published, "An Economic History of Medicare Part C," and it concluded that "Medicare Advantage plans can most effectively bargain for rates in competitive provider markets, whereas when setting rates, Traditional Medicare (CMS) ignores the degree of competition in local markets. By (the federal government) sending more Medicare dollars to Medicare Advantage plans and letting the plans negotiate with providers, the Medicare Advantage program continues to be able to reduce overpayments to providers" etc. The "Journal of Managed Care," has reported that MA plans to deliver higher quality care by reducing the number of hospitalizations, re-admissions and other complex care that are among the highest cost drivers in our health care system. Medicare Advantage plans have pioneered many of the innovations that health policy experts say our health care system needs, including integrated delivery systems, coordination of care, an emphasis on primary care and value-based approaches to paying doctors, hospitals and other health care professionals. Humana programs have documented 6% fewer hospitalizations and a 44% reduction in admissions for those at the highest risk.
Avalere Health recently released a landmark study (featured below) which found that Medicare Advantage achieves cost-effective care and better outcomes for beneficiaries with chronic conditions relative to Medicare.
Key findings include that fact that even though Medicare Advantage has a higher proportion of patients with clinical and social risk factors shown to affect health costs and outcomes than Fee-For-Service Medicare, and forty-eight percent (48%) suffer from at least one chronic illness, MA still:
Despite a higher proportion of clinical and social risk factors, MA beneficiaries with chronic conditions experienced lower utilization of high-cost services, comparable average costs, and better outcomes. Medicare Advantage beneficiaries that suffer from chronic illness have six percent (6%) lower medical expenses. They have twenty-three percent (23%) fewer hospital admissions. And, they have thirty-three percent (33%) fewer hospital visits.
Health outcomes and cost savings are significantly better for Medicare Advantage beneficiaries with diabetes—the most clinically complex cohort in which more than seventy-five percent (75%) of beneficiaries had all 3 chronic conditions in both populations than for Fee-For-Service Medicare beneficiaries with diabetes.
Medicare Advantage beneficiaries with chronic conditions experience significantly better patient outcomes and lower costs savings compared to similar beneficiaries in Fee-For-Service traditional Medicare.
The biggest reason for these results is that the health plans have the incentives to keep people out of the hospital. they directly benefit from the lowest cost treatment programs. After almost ten years, the Obamacare program has NO remarkable achievements in cost containment. The only incentives have been for the ACA Health Plans to have the second lowest Silver Plan cost in the market, because it is used to calculate federal support subsidies. In the beginning, the government would cover any excess losses. Even so, carriers increased Silver their rates by an average of 105% between 2013 and 2017. Health plans should have the incentives to favor cost containment over creating artificially lower premiums for self serving market advantage.
_____________________________________________________________________________________________________________________________
RECENT EFFORTS AT PREMIER, INC. INDENTIFY 8.3 BILLION IN HEALTH CARE SAVINGS THAT CAN NOT BE ACHIEVED IF WE OVERCOME PERVERSE INCENTIVES.
Mar 07, 2018 · Premier Inc. Identifies $8.3B Savings Opportunity in the ED with More Preventative and Coordinated Ambulatory Care Analysis reveals wide variation in the number of patients with chronic conditions presenting to the emergency department. In a recent study, Joe Danmore, Senior Vice President of Population Health Consulting at Premier, Inc., says that " While providers face challenges of perverse incentives that have impeded coordinated, cost-effective delivery, alternative payment models create an incentive for providers to organize high-volume networks …"  Read more
https://products.premierinc.com/value-based-care/resources
MEDICARE ADVANTAGE ACHIEVES COST-EFFECTIVE CARE
This recently completed Avalere study identifies on the cost-effectiveness of Medicare Advantage plans over the fee-for-service Medicare. The objective of this study is to compare demographic and clinical characteristics, overall healthcare utilization, cost of care and related clinical quality outcomes in 2 large national samples of Medicare Advantage and FFS Medicare beneficiaries enrolled for the full year of 2015. Avalere selected beneficiaries with 1 or more of 3 of the top-5 most prevalent chronic conditions in the Medicare population: hypertension, hyperlipidemia, and diabetes.
https://bettermedicarealliance.org/policy-research/
ROLL CALL SOLUTIONS FOR AN EVOLVING HEALTH CARE SYSTEM
This link will take you to a PhRMA sponsored Roll Call Event which includes exclusive interviews with CMS Director, Seema Verma and the CEO's of John Hopkins, Dana Farber, Harvard Pilgrim Healthcare and Olivier Brandicourt, President of Sanofi, one of the largest pharmaceutical companies in the world. Here you will find valuable incites into the world of medicine, health care delivery at the Academic Medical Centers and the latest developments in the pharmaceutical industry and what that means for the future cost of health care in the United States.
www.rollcall.com/events/
MEDICARE ADVANTAGE MARKET CAN OFFER OPPORTUNITIES
The vibrance of the free marketplace in health care is the essence of the ability to cover the highest quality health care with insurance programs that have the lowest possible cost. This article identifies a robust Medicare Advantage marketplace with programs that have a fair amount of government regulation but not the arbitrary inflationary requirements of the Affordable Care Act.
https://healthpayerintelligence.com/news/how-the-medicare-advantage-market-can-offer-payer-opportunities/
HIGH VALUE HEALTH CARE REFORMS IN COST CONTAINMENT PLAN PROPOSALS
We can make all kinds of improvements in the quality of care but if they are not integrated into provider reimbursement incentives, they may not lower the cost of care. Managed care companies are the best innovators in this area, especially when they have the right incentives. Learn more about the direction in which we need to go:
https://www.commonwealthfund.org/publications/issue-briefs/2018/nov/high-value-care-delivery-system-reform-2020/
DIRECTOR OF THE CONGRESSIONAL BUDGET OFFICE - Peter Orszag's TESTIMONY BEFORE CONGRESS IN 2007.
Peter Orszag was director of the Congressional Budget Office from January 2007 to November 2008. During his tenure, he repeatedly drew attention to the role of rising health care expenditures in the government's long-term fiscal problems—and, by extension, the nation's long-term economic problems. In 2008, he was appointed by President Obama as Director of the Office of Management and Budget. His was clearly one of the architects of Obamacare and this testimony before Congress can be considered a harbinger of the ACA program.
06-21-2007 Orszag congress. testimony healthcarereform.pdf
HIGH THE PORTION OF HEALTHCARE COST ASSOCIATED WITH LIFESTYLE-RELATED MODIFIABLE HEALTH RISKS BASED ON A SAMPLES OF 223,461 EMPLOYEES IN SEVEN INDUSTRIES: THE UM-HMRC STUDY
Back in 2015, a Study by the University of Michigan of modifiable health risks for 223,461 employees in seven industries identified the fact that health care costs could be reduced by 26.0% ($761/person) among employees with no self-reported medical conditions and 25.4% among employees with a medical condition ($2598/person). The prevalence and relative costs of each of the 10 risks were different for those without and with medical conditions, but high body mass index was the most prevalent risk for both groups (41.0% and 63.9%) and also contributed the largest percentage of excess costs (7.2% and 7.3%).
https://journals.lww.com/joem/Abstract/2015/12000/The_Portion_of_Health_Care_Costs_Associated_With.5.aspx